Online Resources For Students

UG2GO - Students can access UG2GO from home too!
- school network login & password gives students access from home
(this only works if their account is active at school)
Click below for a description of the programs available on:
Elementary UG2GO and Secondary UG2GO
From Michelle Campbell, Supervisor of Media Services
Raz Kids - all of our students from SK - Gr.3 have logins http://www.raz-kids.com


Library Links:
- put in any text & it will give it back to you with each picture - very cool! - gives it to you in html code so you can add your words to a site or blog.

- make a motivational poster, magazine cover, and more
- word mosaics, poetry blender and more...

- generates "word clouds"
- the words that appear more frequently in the entered text appear more prominently on the picture
- see the example I made below by pasting in the information I wrote about Twitter on this website
- many teachers are using this for a lesson on word choice (i.e. if students are using "because" too much, it will appear very large
- allows students to create art-inspired stories that they can present or print
- allows students to create avatars that can be used to embed your picture into other websites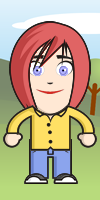 - use with iPads or a browser
- students & teachers can create & share lessons & videos
- create timelines & share them online
- a great tool for helping students learn vocabulary or languages